SKP Chengdu
SKP Chengdu follows the success of Department Stores in Beijing and Xi'an, it is designed to become an unparalleled landmark for fashion, tech and art and a new milestone for the city. The mixed use masterplan is a holistic and collaborative vision by Sybarite, realised with Field Operations, Arup, Speirs Major, Buro Happold, Eckersley O'Callaghan and The Fountain Workshop over a three year period.
At SKP Chengdu, SKP Park, SKP-N and SKP-S come together to conjure an undeniable sense of interconnectedness: an ingenious combination of urban park and underground buildings. SKP Chengdu is a TOD (Transit Oriented Development): it creates dense, walkable, and mixed-use spaces near transits that support vibrant, sustainable and equitable communities.
Casting our minds back to 2019, SKP-S successfully pushed and challenged what we think we know in retail terms by presenting the otherworldliness of moving to Mars in Beijing and the nostalgia of returning to a devastated Earth for rebirth in Xi'an in 2021. In continuance, Chengdu SKP-S proposes a hypothetical utopia where we can live in equilibrium through a Gate of Transition which opens up the ultimate in parallel time and space.
SKP Chengdu is a place shaped by familiarity, possibility, and instinct – a place of fierce optimism. It is where destiny is calling us. A story of the journey of humanity, the possibilities and challenges of endless curiosity and it captures humankind's instinctive desire to explore. As such, the signature SKP curve and architecture has too evolved since its last iteration.
There are many worlds within SKP Chengdu which firstly reveal themselves upon arrival to the park and its botanical quilt of gardens: comprising 33 crafted landscapes and scenic spots in nature. Regardless of how many times you enter the park, you may never follow the same path – the stories you encounter will always be unique. The retail journey follows suit.
The magnificence of the SKP Park lies in an uninterrupted vista without a hint of what lies below. The parallel connection of park and corresponding plunging architecture emerges as quarried into the landscape akin to a canyon as one descends. A sunken world of retail, hospitality, tech, experience and art are constantly in motion, evolving and changing, and yet underpinned by a common narrative – a celebration of diversity living under one 'botanical roof'.
SKP Chengdu represents individuality in harmony and a parallel world where everything comes together to showcase what is possible in this journey from elegance to energy: SKP to SKP-S.
"I see SKP Park Chengdu like a symphony, a lengthy composition with several movements that have rhythm, a pulse and that crescendo every so often. Our ambition in designing this immense destination whose sum of parts come together to evolve the dexterous SKP language and retail offer that we conceived some ten years ago on an exponential level". – Torquil McIntosh, Co-Founder, Sybarite
THE HIGHLIGHTS: PARK & PARALLEL WORLD
Located in Chengdu north of the Ring Expressway in the High-Tech Zone on Tianfu Avenue, opposite the New Century Global Centre, within a Green Belt site covering 700 x 370 metres. Demonstrating three-dimensional transportation, green ecology and high-end commerce this is a low-carbon city development and an innovative smart city development.
Stretching 260,000 m2, 190 Acres, 99% of buildings below ground, 30 metres below ground. Divided into four major areas (Chengdu SKP, Chengdu SKP-S, K Avenue & G Avenue (luxury cuisine and fashion avenues each 250 metres long).
A TOD (Transit Oriented Development). Covering 5 floors with retail and shopping spaces spanning 12 metres below ground, below this, 3 parking lots with over 2,400 parking spaces. Multiple subway lines cross under SKP, Line 18 direct to Tianfu International Airport.
A sustainable park created as a gift for the citizens of Chengdu with a sponge city concept that is green with carbon emission reduction and carbon neutrality. Sponge City Construction is a new urban construction model for flood management, strengthening ecological infrastructure and drainage in collaboration with Field Operations.
Setting a new benchmark as the largest sunken and sustainable luxury retail masterplan: a new blueprint.
The project consumes energy based on scientific calculation and leverages the latest technology to achieve energy saving, environmental protection, pollution and emission reduction and low carbon production methods.
SKP Chengdu and Huawei jointly built a Smart Operation Management Platform, based on Huawei's cloud-edge collaboration solution to achieve openness, co-governance and interconnection between systems to improve the operation and efficiency of property, security and business. The digital world is brought into every corner of the park.
Comprising half a million square metres of mixed-use retail (with well over 1,300 first tier global brands) and hospitality as a biophilic masterplan.
The most recognized and reputable brands and products exclusively created for Chengdu including a signature fragrance with unique scents per area and a curated three-part music journey that unfolds as you journey through by French mixologists. Cutting-edge new talent across fashion, food (Michelin Star and Black Pearl Restaurants through to  a wide array of comprehensive cuisines), lifestyle, art, culture.
'The Tower of Life' set in the 'Land of Abundance' – a series of lantern-like towering water beacon sculptures of 26 and 36 metres creating their own dramatic micro-climate and changeable light settings. Crafted from 5,328 nozzles, 2,700 sprays, 8,028 spotlights, 5,300 water pumps. Equipped with purification equipment, softening and disinfecting equipment.
Exhibiting mysterious species in SKP-S: The Floating Populus – a 'Desert Warrior' representing the strongest life power, the 'Gorilla Spacewalk' representing the fusion of time and space and breaking through the time barrier. From above, 'The Supernova', inspired by stars and planets, light and gravitational waves rotates to connect time and space.
SERVICES
Full Retail Design Services
LANDSCAPE
Field Operations
LIGHTING
Speirs Major Lighting Architecture
ADVANCED ENGINEERING
Eckersley O'Callaghan
WATER FEATURES
The Fountain Workshop
FIRE PROTECTION ENGINEERING
Arup (Shanghai)
CLASSIFICATION
TOD (Transit Oriented Development)
STRUCTURAL AND MEP FEASIBILITY
Buro Happold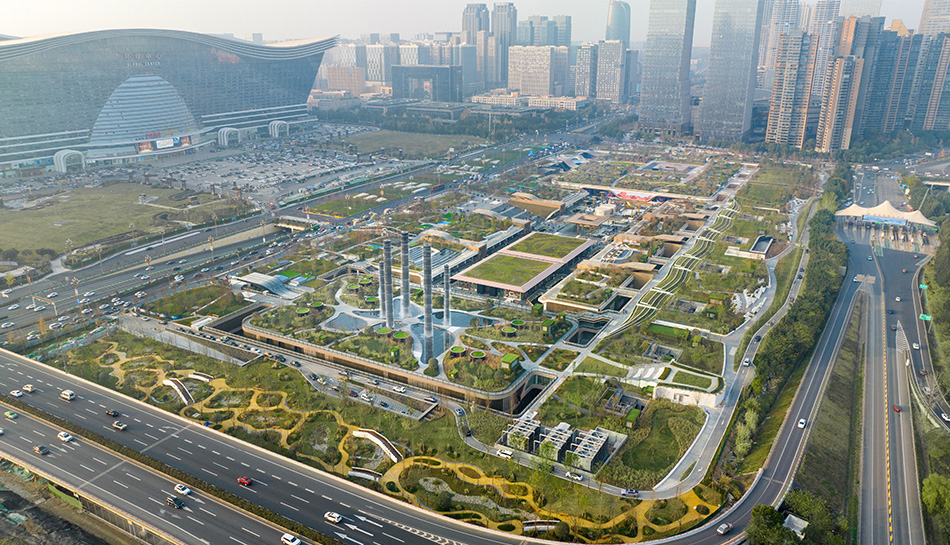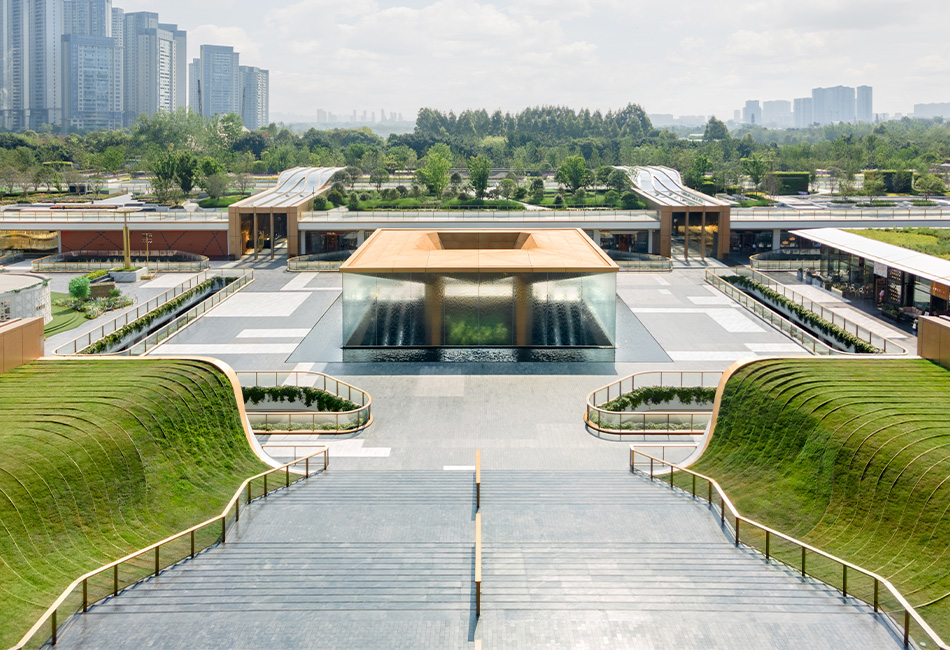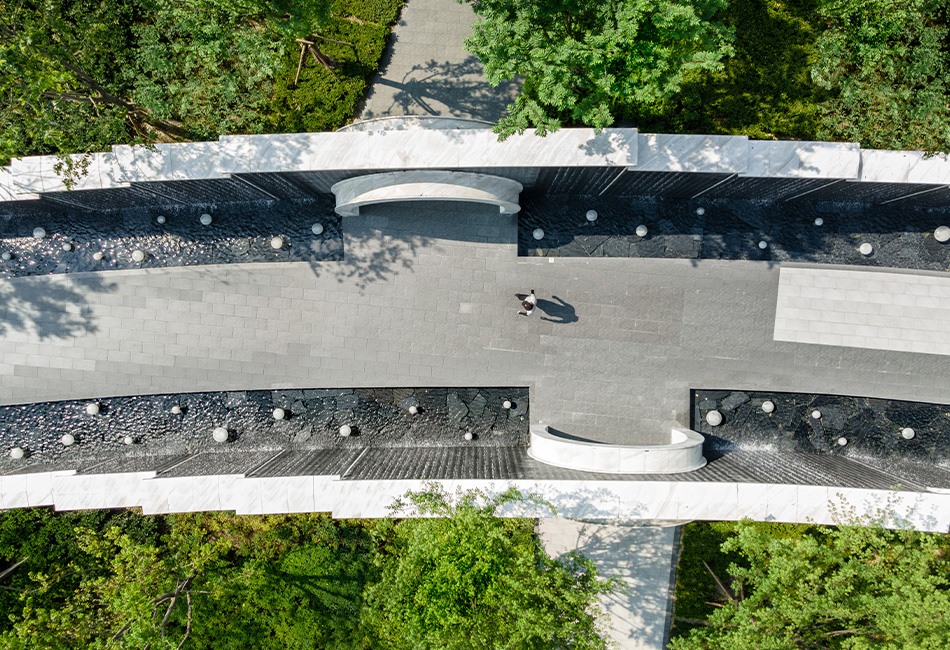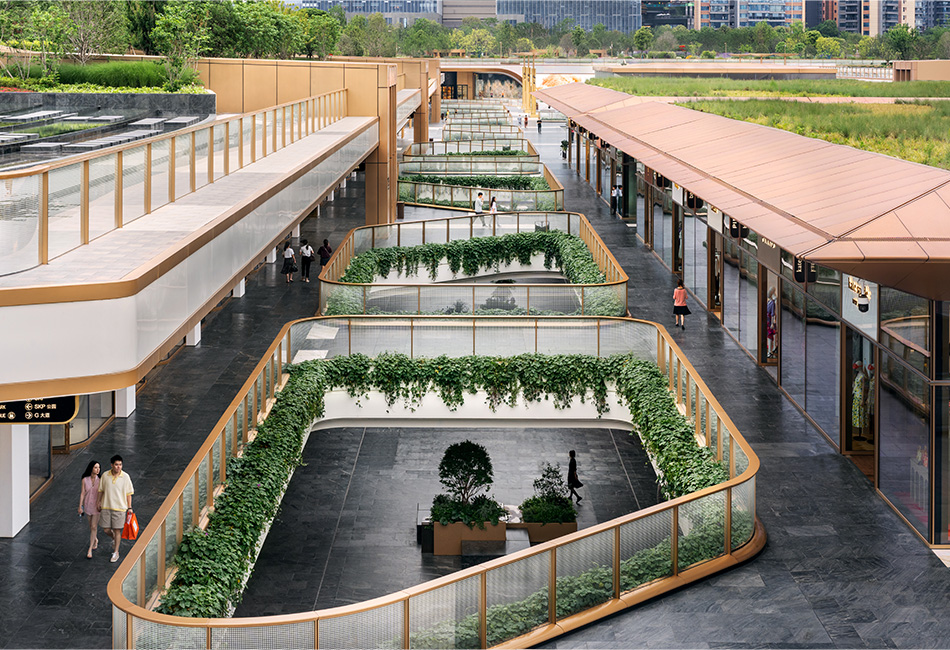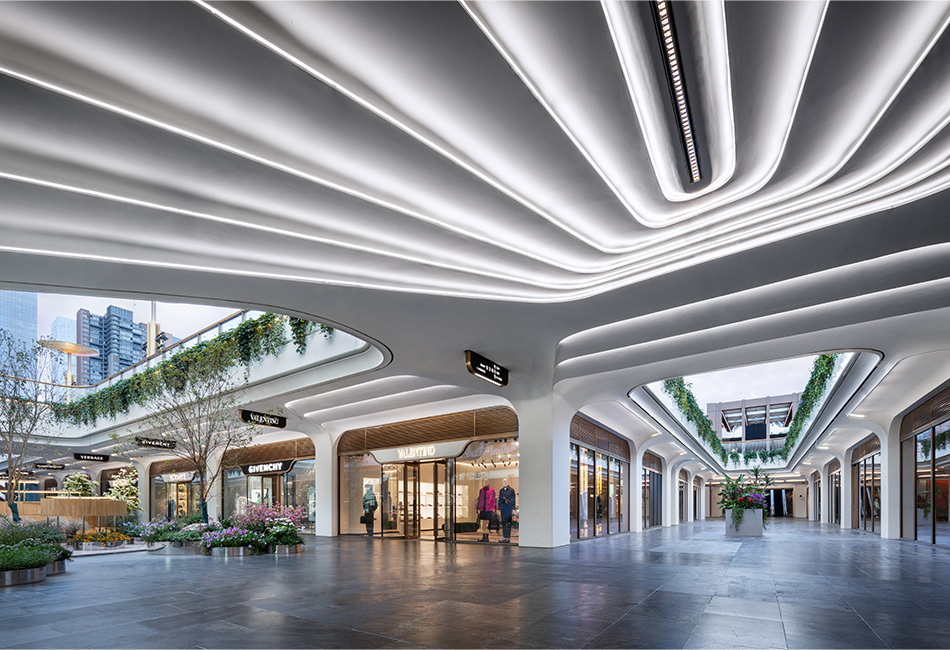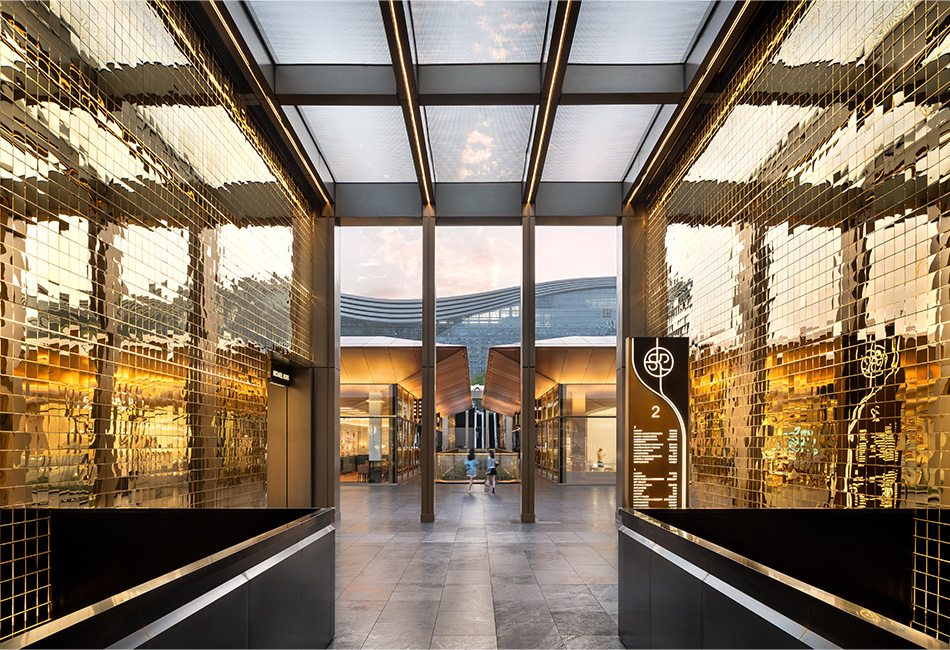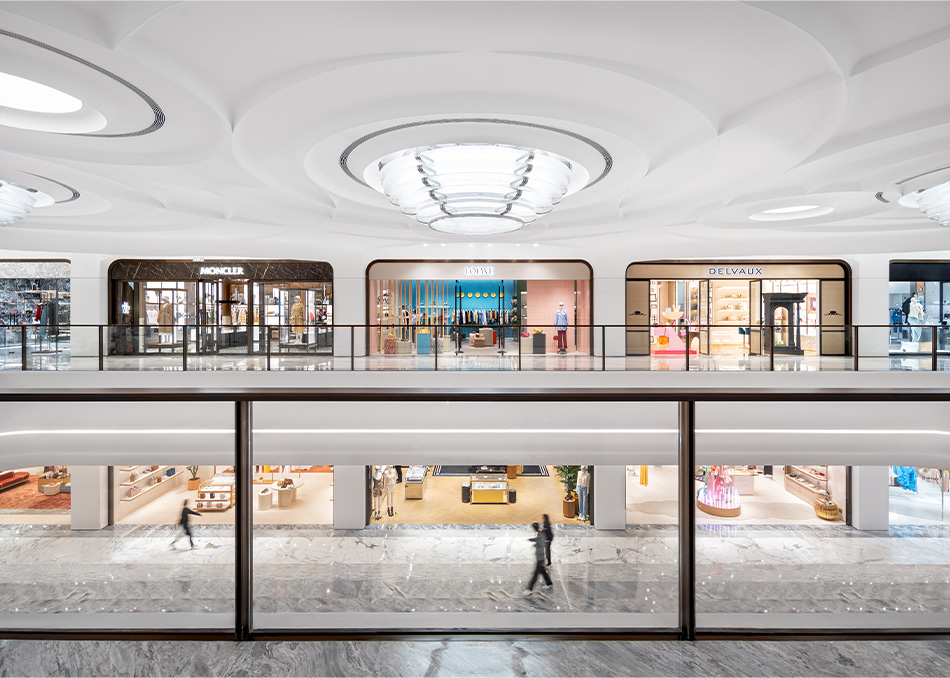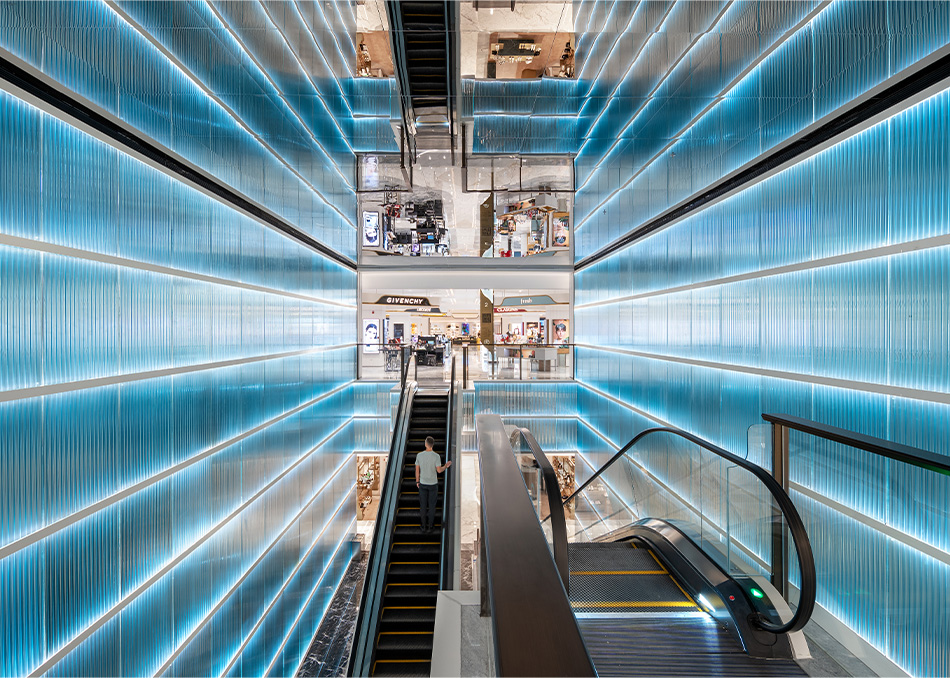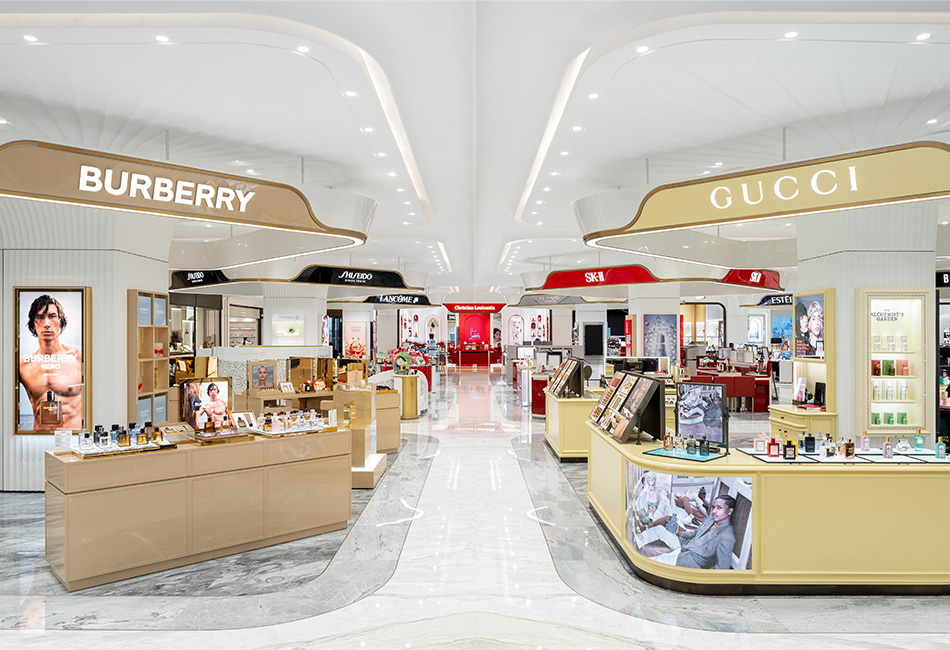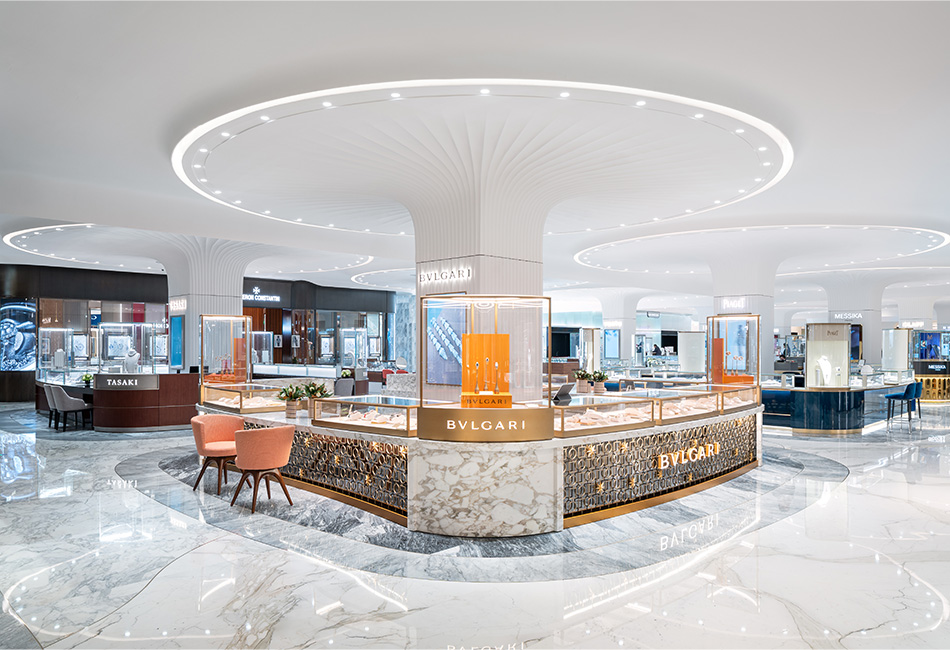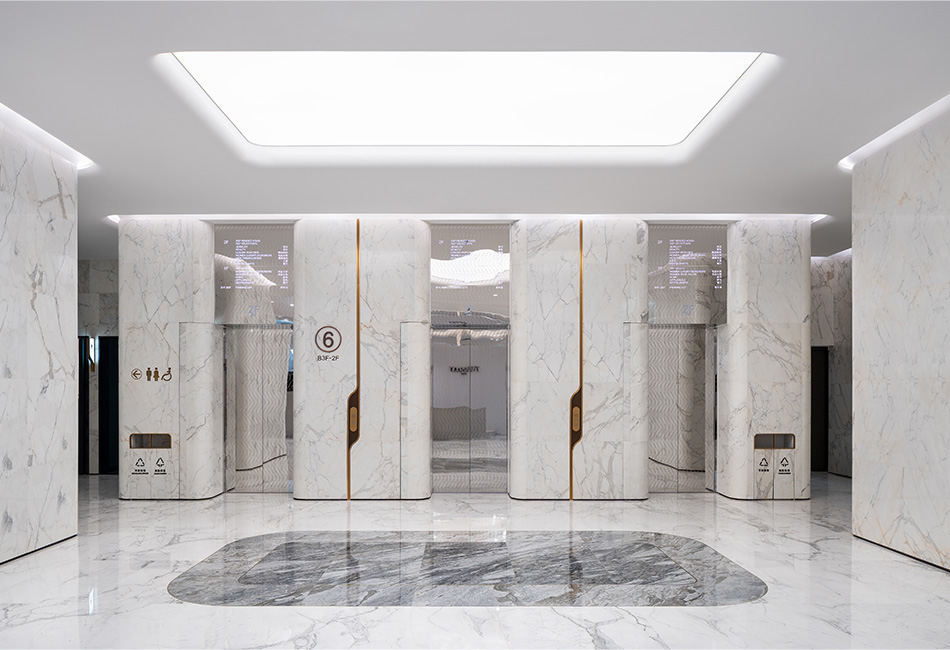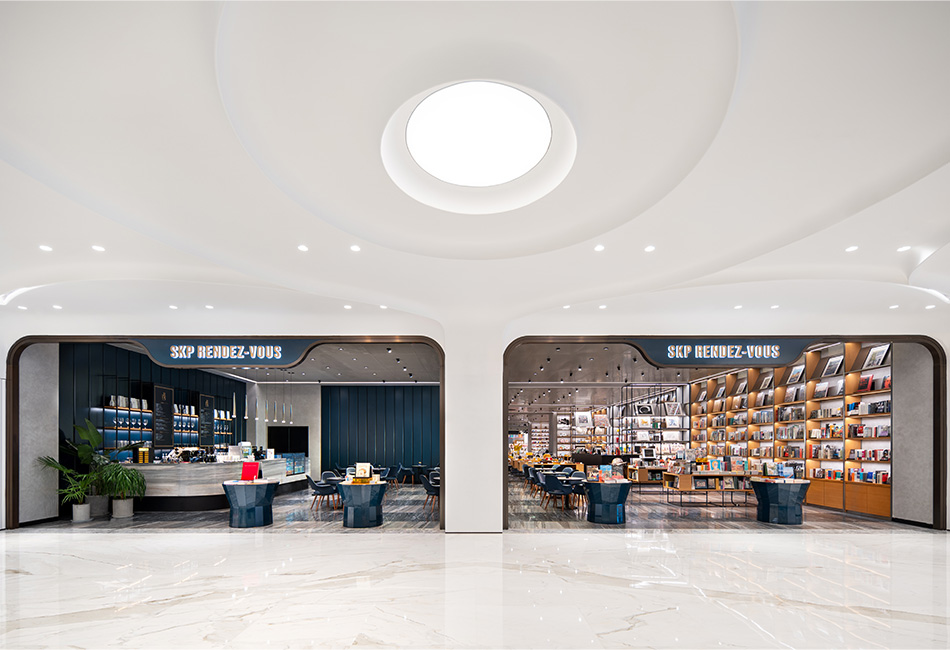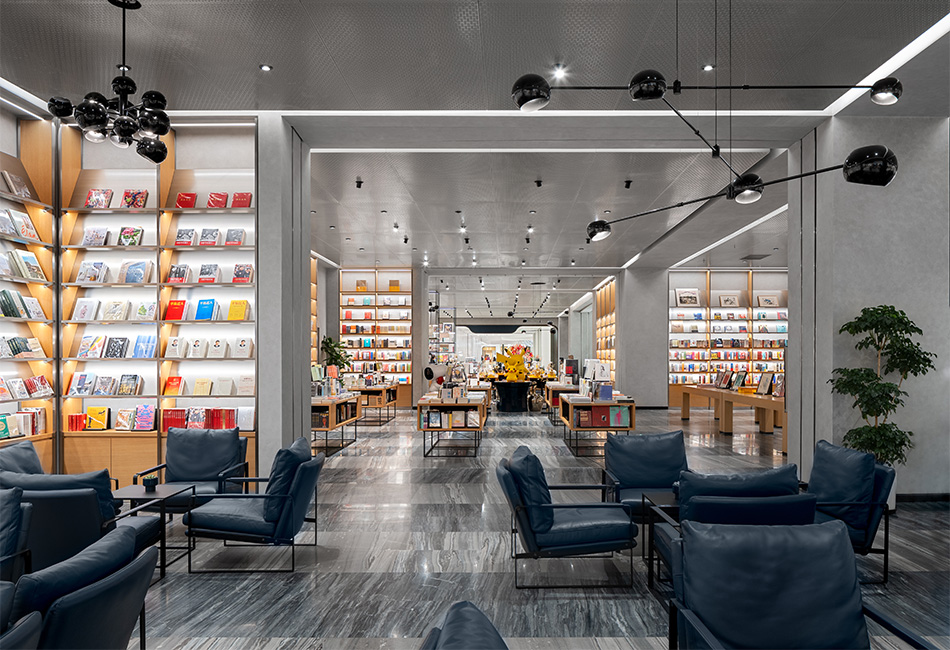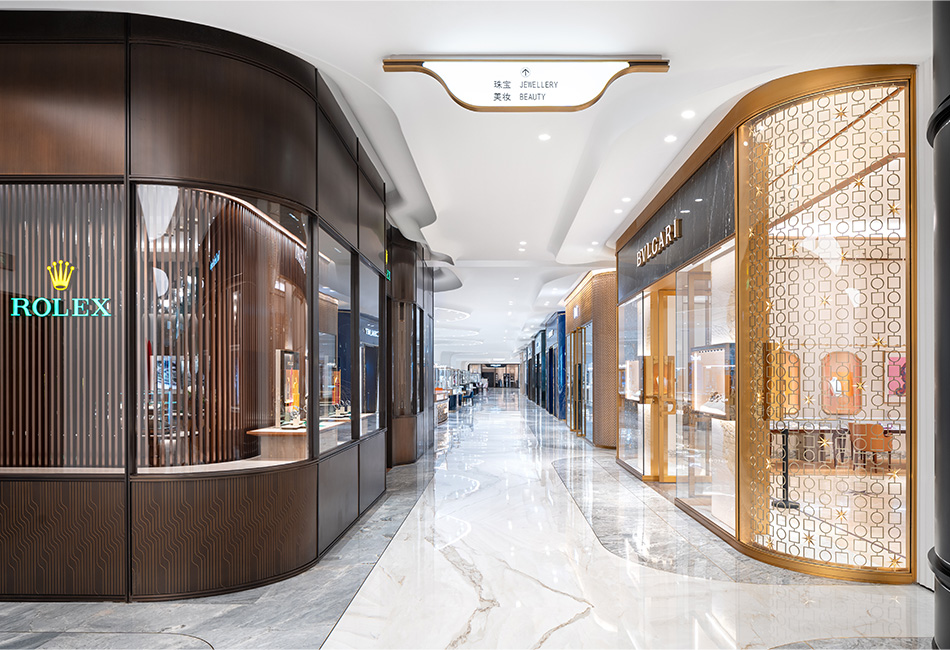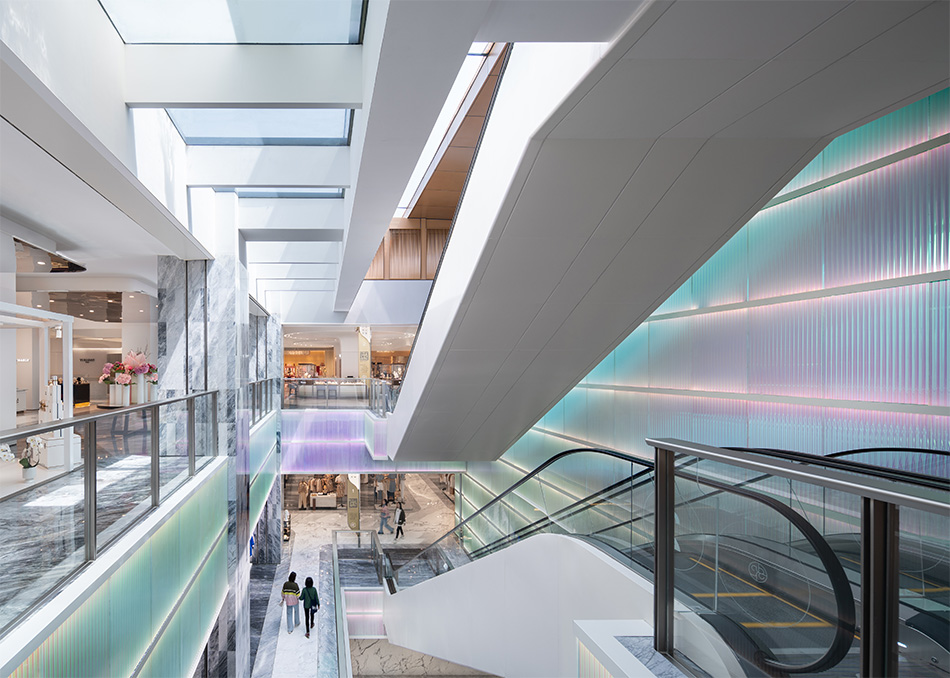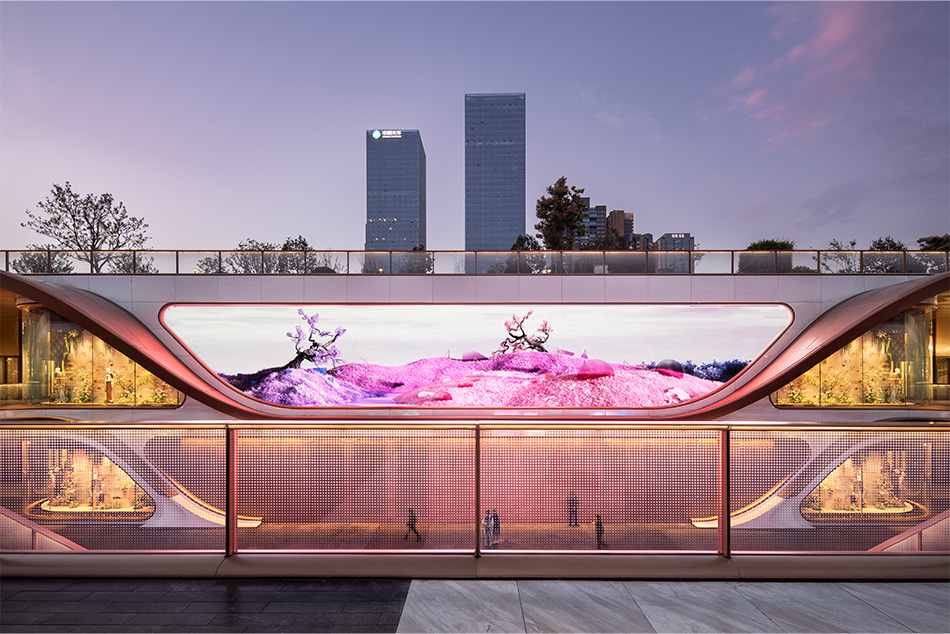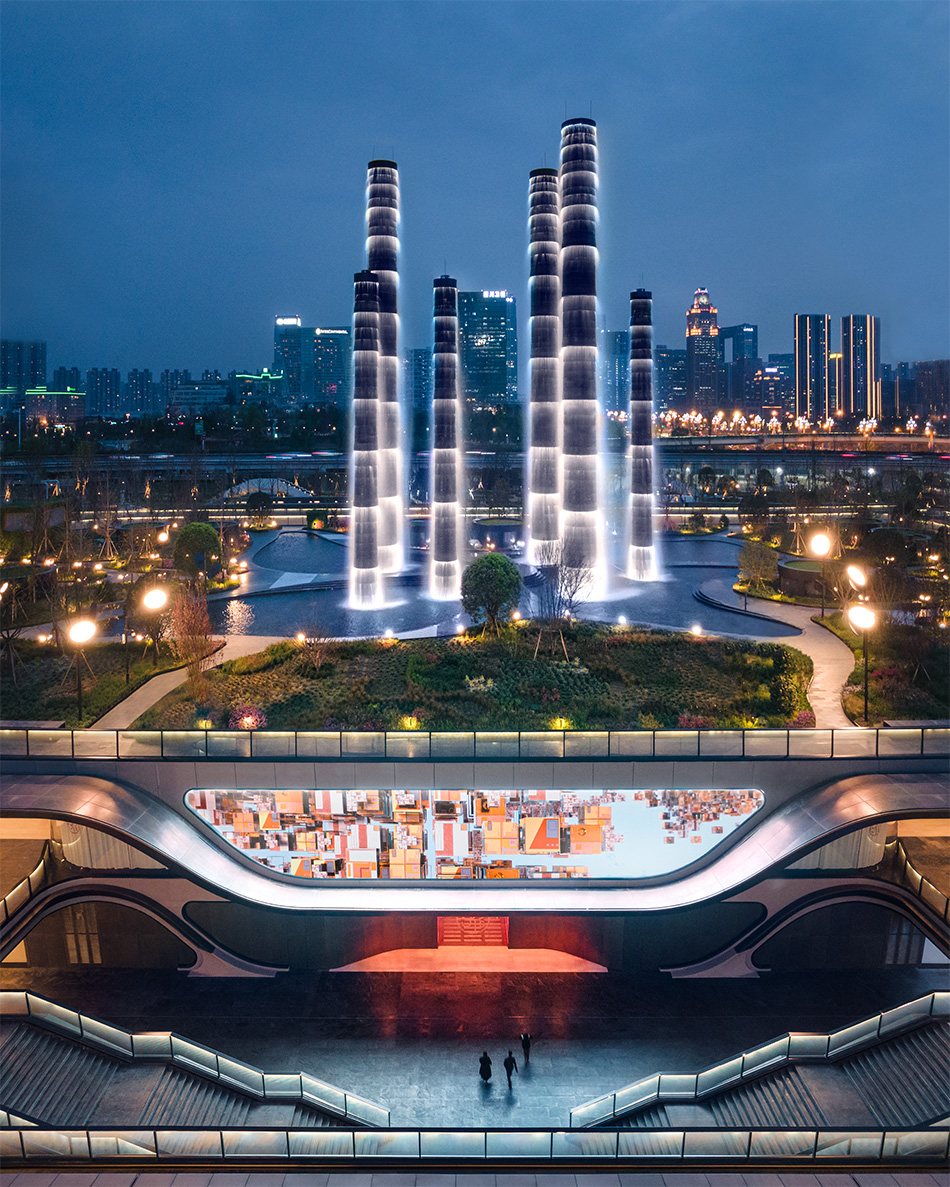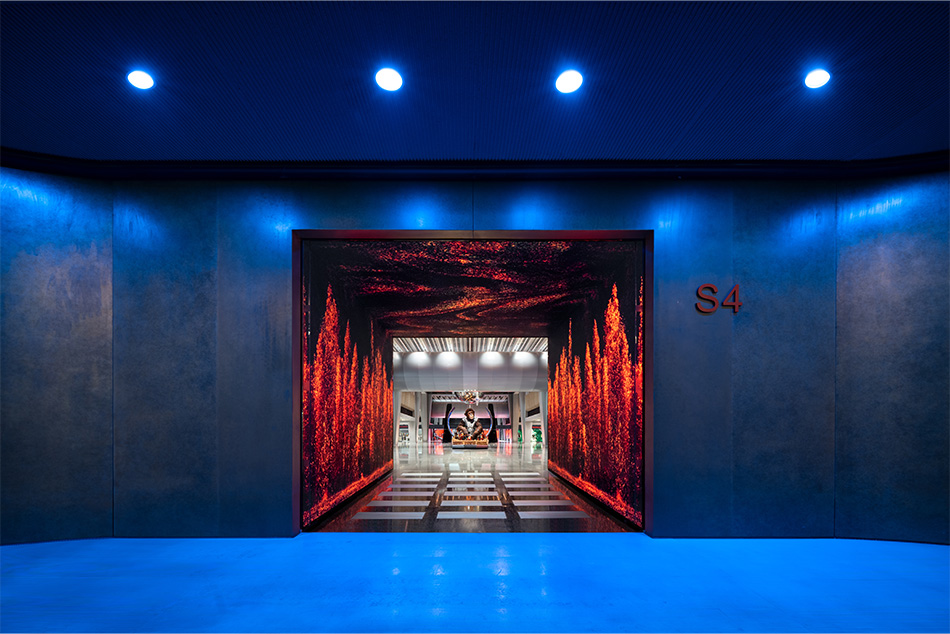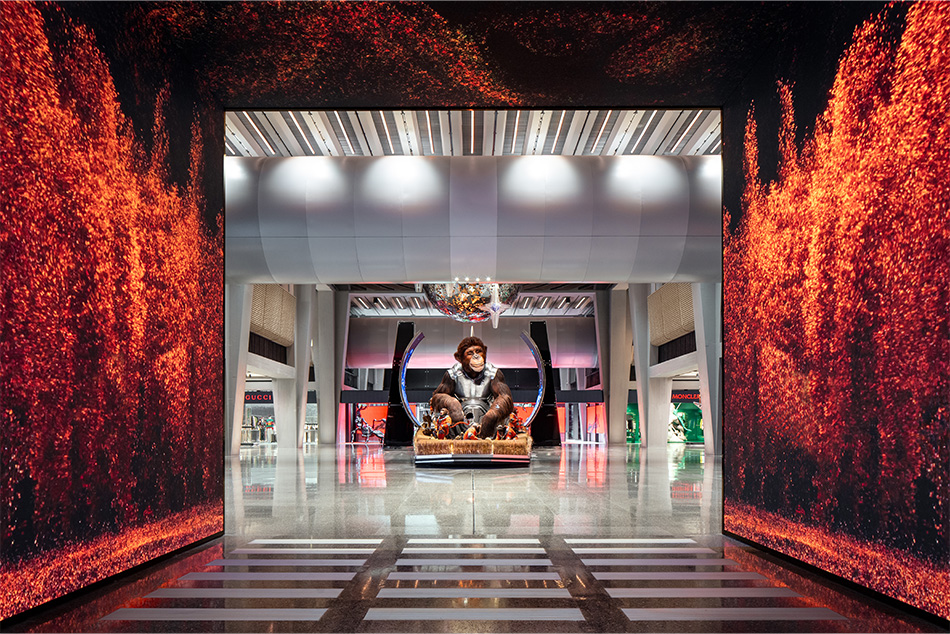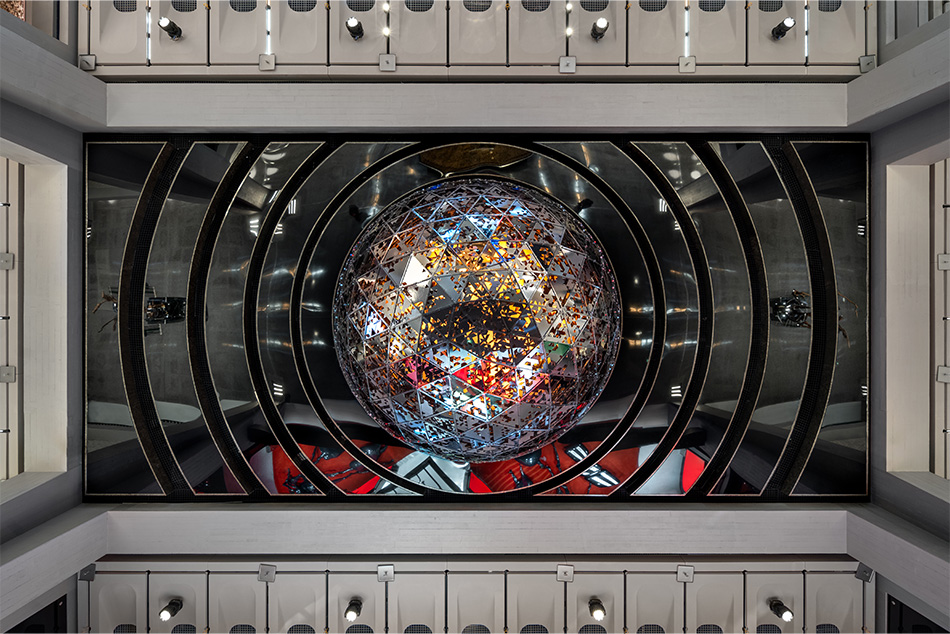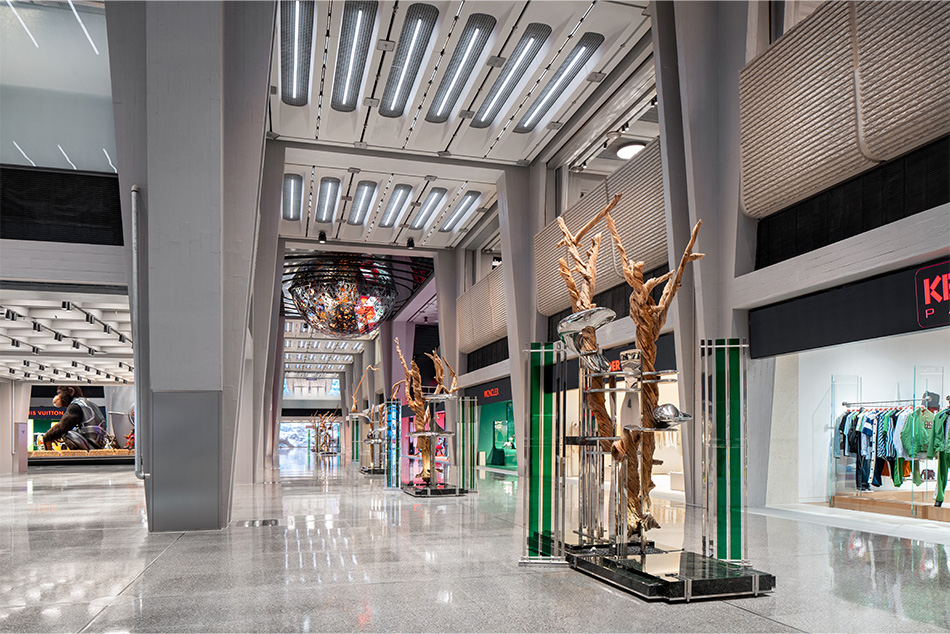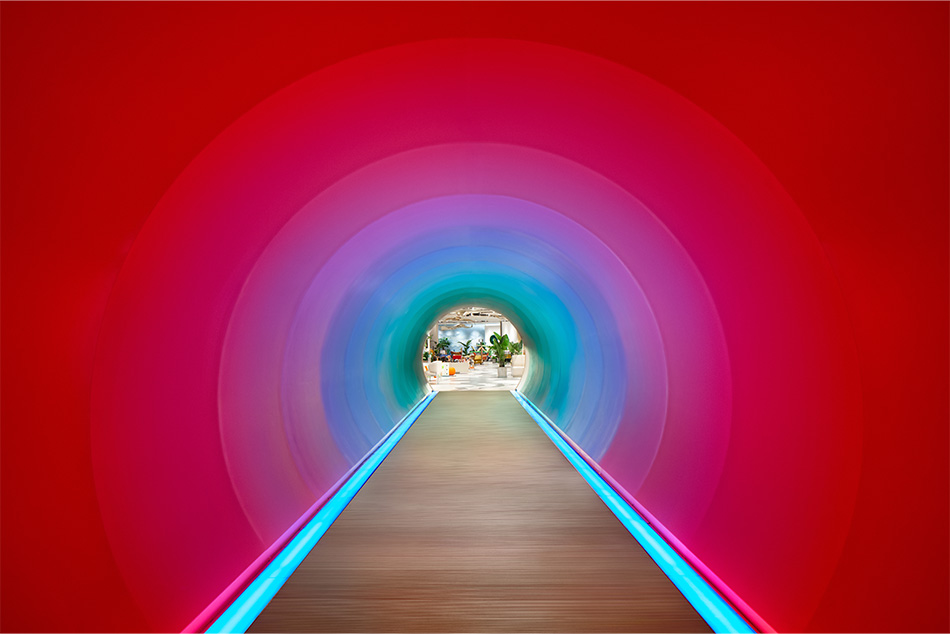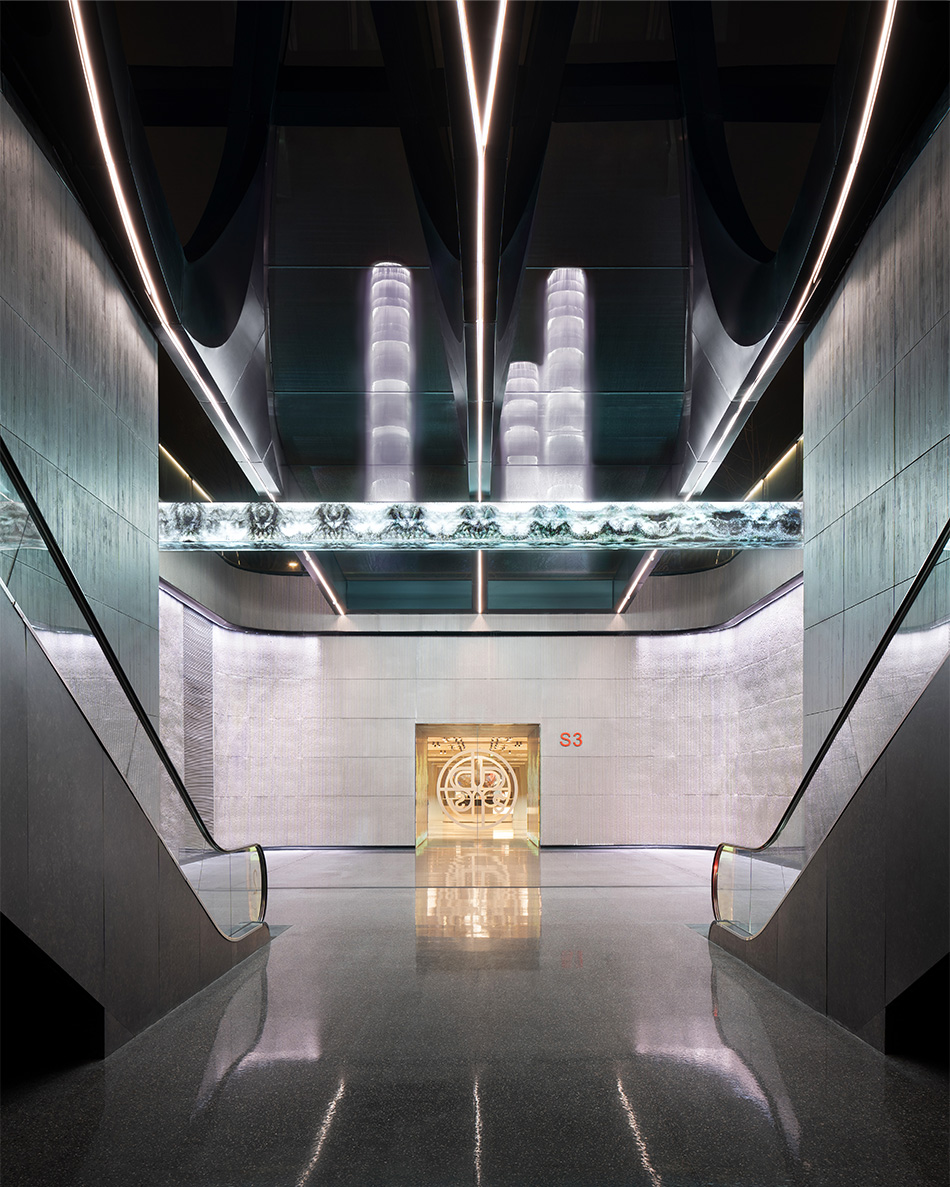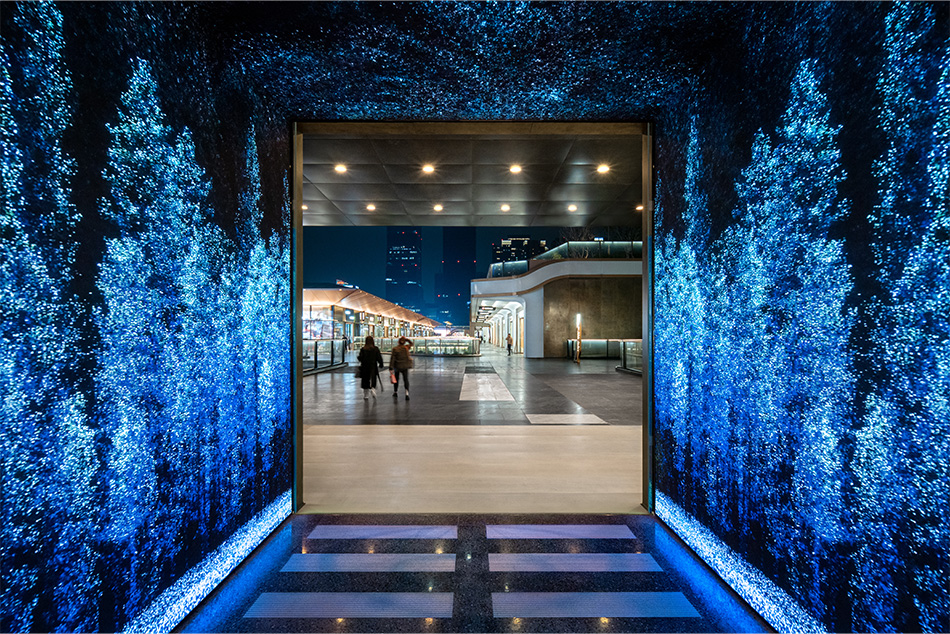 SERVICES
Full Retail Design Services
LANDSCAPE
Field Operations
LIGHTING
Speirs Major Lighting Architecture
ADVANCED ENGINEERING
Eckersley O'Callaghan
WATER FEATURES
The Fountain Workshop
FIRE PROTECTION ENGINEERING
Arup (Shanghai)
CLASSIFICATION
TOD (Transit Oriented Development)
STRUCTURAL AND MEP FEASIBILITY
Buro Happold